Welcome to Cuddly Critters
Cuddly Critters, Inc. is a Non-Profit Public Service (501c3) which is designed to rescue potbellied pigs from bad or emergency situations and then to find them good homes.
We also provide a sanctuary for old or disabled potbellied pigs, giving them an excellent home for as long as they may live.
We are located in Hollister, in the Central Coast area of California.
As a means of helping to support Cuddly Critters, Sue runs a scrapbooking business as well. Please see business card below.
CLICK IMAGE TO ENLARGE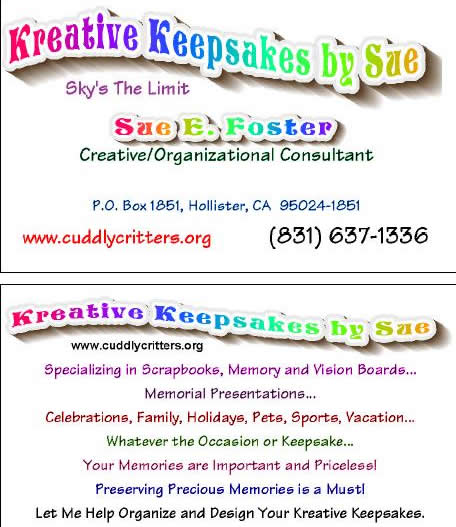 CLICK IMAGE TO ENLARGE
All material on this website is
Copyright (c) Cuddly Critters Inc.
including photos, graphics, Cuddly Critters logos and
sayings (e.g. "Special Pets For Special People"),
forms, text and stories, and may not be copied,
distributed, or used in any way except for the
purpose of viewing and interacting with this website.
Some photos on this website by Victoria Rugg Photography 530-894-7844
and Momma Suey of Cuddly Critters