Contact Cuddly Critters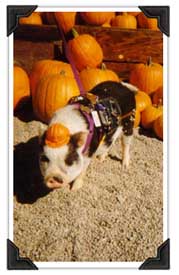 E-mail: Suey
Phone: (831) 637-1336
Sue E. Foster
P.O. Box 1851
Hollister, CA 95024-1851
If you would like, you may designate where you would like your donation(s) to be applied. For example, some people would like their money to go toward the Cuddly Critter potbellied pig rescue. Other supporters donate toward animal feed, still others donate to Cuddly Critters, Inc. in general. No matter where you designate your donation to go, it all goes to benefit the animals. All income derived from the sale of Critter logo products (T-Shirts, etc.) and donations goes directly back to the animals. Absolutely no person working for Cuddly Critters gets financially reimbursed because all time is donated by volunteers. (Talk to your tax preparer about your donation being a tax writeoff since we are a nonprofit (501c3) entity).
Every donation is important and is greatly appreciated! Also please remember that we are nonprofit (501c3) so all of your donations are tax-deductible, as allowed by law, and go toward caring for the Cuddly Critters animals, and we will never sell or give away your personal information.
Thank You For Your Support!